Anchorage Hospitality Businesses Double Down on COVID-19 Safety Measures
A new campaign outlines the efforts of local hospitality industry
Anchorage, Alaska (July 8, 2020). Alaska Hospitality Retailers (AKHR) announced the launch of a new public awareness campaign highlighting how Anchorage restaurants and bars are addressing the health and safety of Alaskans during the COVID-19 pandemic. The campaign consists of a video compilation of interviews with members of the hospitality industry with a call to action for Alaskans to do their part to support their local economy safely.
"We understand that this virus isn't going away in the near future," said Silvia Villamides, Executive Director of AKHR. "Now is the time to take action and personal responsibility."
The campaign, #AlaskaTogether, will launch the week of July 13, 2020 with the video and a social media blitz. Alaskans can download a Tip Sheet from the Alaska Hospitality Retailers website at www.AlaskaHospitalityRetailers.com on the best ways to stay safe while frequenting local businesses.
As COVID-19 cases continue to rise nationwide, the Alaska hospitality industry is taking the health threat seriously and encouraging their staff and customers to do the same. Some of the ways establishments are already putting safety first is by requiring face coverings, reducing or eliminating dancing and bands, turning down music to reduce the need to stand closely for conversation, limiting occupancies, increasing outdoor seating, and instituting earlier closing hours to help keep patrons focused on social distancing.
AKHR and its members are using the new campaign to encourage residents to continue to frequent local restaurants and bars with care and awareness.
"It's the Alaskan way to keep our families safe and to look out for our neighbors," Villamides said. "Life in Alaska can be challenging in any situation, and Alaskans are used to improvising, innovating, and thriving with an indomitable spirit in the face of adversity."
A few ways Alaskans can take action include having Personal Protective Equipment including masks or face coverings and hand sanitizer on hand and wearing masks when entering public places. They should also maintain sufficient distance from anyone who is not part of their immediate household. If they forget their own safety supplies at home, they can keep themselves and others safe by accepting protective equipment from businesses that offer them. More tips will be available on the #AlaskaTogether Tip Sheet.
For more information about the campaign and interviews with industry spokespeople, contact:
About Alaska Hospitality Retailers:
The Alaska Hospitality Retailers represents Alaska's largest private sector of employers within the hospitality, tourism, and food service industries.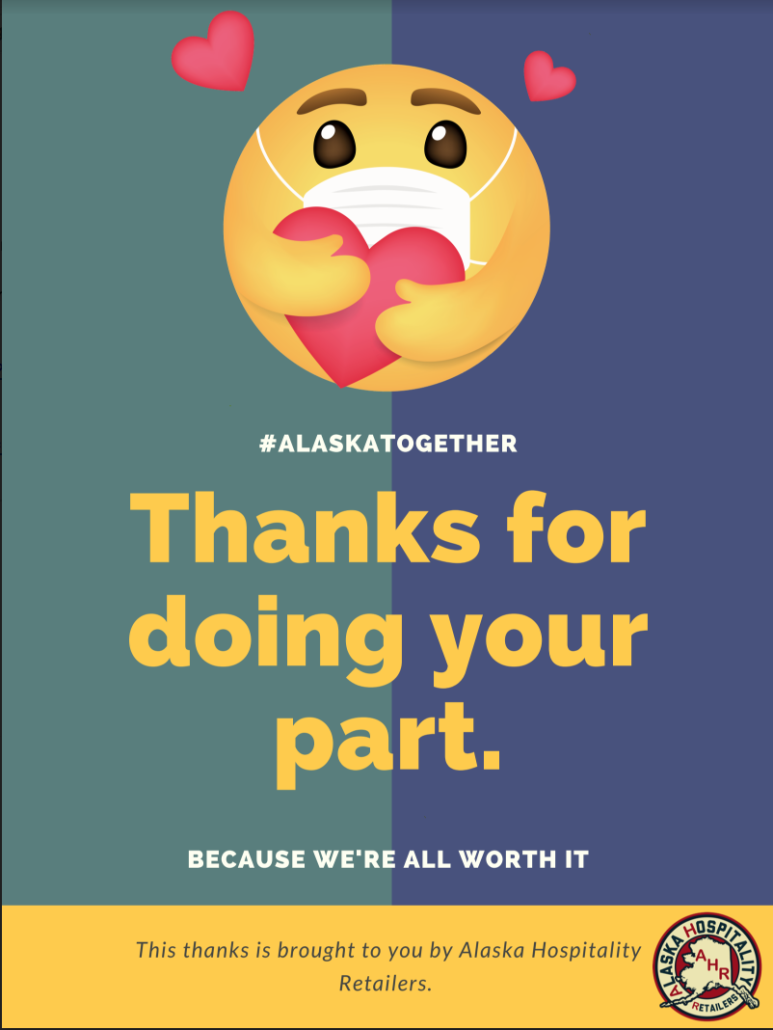 https://alaskahospitalityretailers.org/wp-content/uploads/2022/04/Screen-Shot-2022-04-20-at-10.25.47-AM.png
1258
1402
Aliza Sherman
https://alaskahospitalityretailers.org/wp-content/uploads/2022/04/AKHR-LOGO.png
Aliza Sherman
2020-07-08 18:26:12
2022-04-20 18:28:51
Anchorage Hospitality Businesses Double Down on COVID-19 Safety Measures