Crossroads Lounge – Where Friends Meet
Dottie Miller began working at Crossroads Lounge on Gambell in 1984. Jennipher Jenner started there around 1998. They both worked for Don and Nan Skewis who had owned the place since 1978, but the building dates back to the 1950s when it used to be a Presbyterian church before it was converted into a bar.
"It was a working man's bar," says Miller about her early days at Crossroads. "It was an iron workers' bar. They all came in before they went looking for a job at the union hall. They all sat in here after going to the union hall. We had the train. We had the longshoremen. Back then the bars were open most of the time. They closed at 5:00 p.m. and opened back up at 6:00 p.m."
"And now we have a lot of service industry workers that all work downtown but they live in this neighborhood," says Jenner, "Really it's an Everyman's Bar. People come here from all over the city. I like to refer to it as a kind of a community center."
Jenner recalls how the community center aspect of Crossroads Lounge was exemplified during the earthquake of November 2018.
"We were one of the only places that had power. People just came here and were all shook up, no pun intended," she says with a laugh.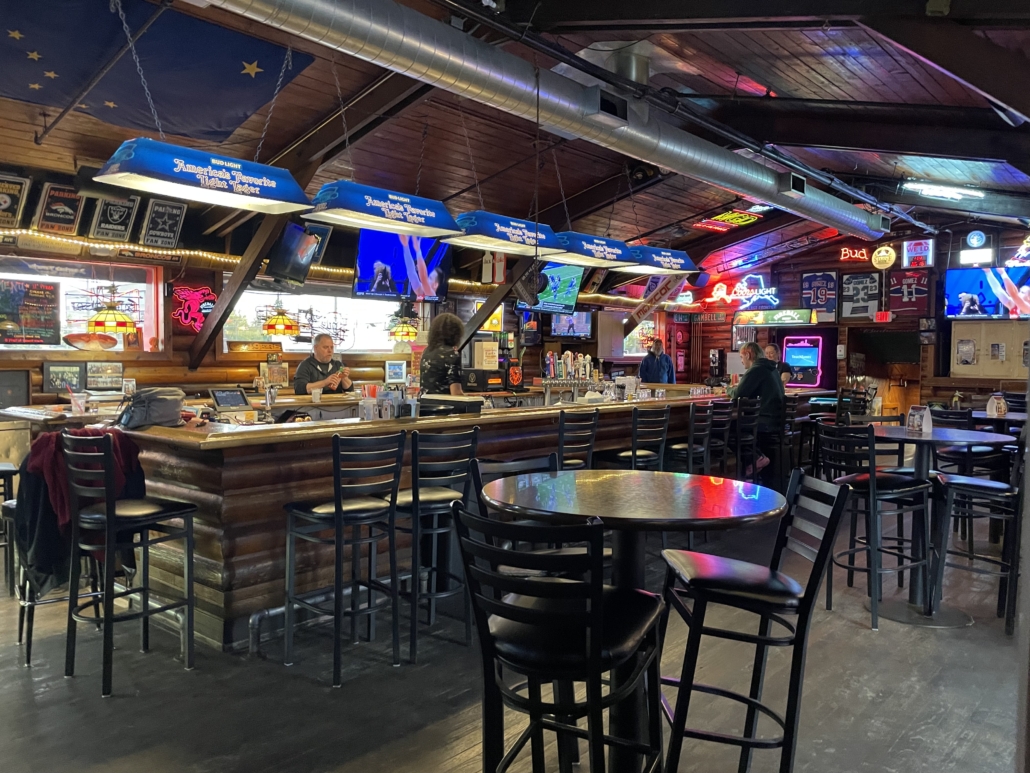 Alaska Hospitality Retailers Member Profile
Pictured: Dottie Miller and Jennipher Jenner, Crossroads Lounge
Taking Over Traditions
Miller took over the lounge in 2014 with another business partner, Tammy. Jenner began helping out when Tammy was diagnosed with cancer. After Tammy passed, Jenner joined Miller as a partner in Where Friends Meet, Inc. doing business as Crossroads Lounge.
Today, Crossroads Lounge continues its long-held traditions, such as their "temporary drawing" every Saturday that has been going on for decades. Customers sign in and a name is pulled from a bucket. One ongoing part of the drawing is the "Split the Pot" with the Food Bank of Alaska. To date, Crossroads has raised over $60,000 for the Food Bank.
While a full-service bar, viewing sports on 20 TVs, pool, and darts are features, the Crossroads Lounge also serves food.
"We have fryer food, French fries, fried chicken, and hot wings. We've got hot dogs. If you have a cocktail or beverage, then you get a hot dog," says Miller. So well known for their hot dogs, that the lounge's softball team is even called the Crossroads Hot Dogs.
"On Sundays, during football season, we actually have a designation to open at 9am which is when the football games start. And we put out a full breakfast," says Jenner, and Miller adds, "Steak, ham, bacon, sausage, eggs, potatoes and toast."
Miller says they used to serve soup regularly, but that was one thing put on pause because of the pandemic.
"We used to do barbeque ribs on Memorial Day, Labor Day, and Fourth of July. Free. And do a potluck. We can't do that anymore. There's just a lot of things you can't do. Everybody loved to come in and have soup. I just can't do it all the time anymore," Miller says.
Crossroads Lounge also offers a private party room in the basement that comes with a full bar and bartender for a $300 deposit in check or cash form. As soon as the till hits $300 during the party, the deposit is returned.
Perseverance into the Future
Like any business, Crossroads Lounge has experienced some challenges. In addition to the Earthquake of 2018, there was the electrical fire in May 2019 and a flood from a broken sewage line. And then the pandemic.
"As tough as it was, we did get through it, and I'm really thankful that we had a staff that stuck with us and helped us get through it," says Jenner, adding, "We've got a pretty smooth running ship right now, it's just making sure that this beautiful old building doesn't fall apart. We've been chunking that out little by little as time passes, doing what we can do. We want the business to keep going strong throughout the decades. That's the whole point."
Says Miller, "We've added a lot. Don (the previous owner) wanted us to just sort of keep it the same. It's like 'Cheers.'"
"Yeah, that's the right way to put it," says Jenner. "'Where everybody knows your name.' That is this place."